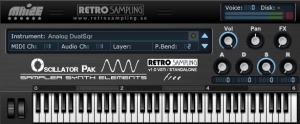 OSCILLATOR PAK - SAMPLER SYNTH ELEMENTS v1.0
This is a collection of free waveforms for the experimental synth/patch programmer
that uses a sampler for waveform playback instead of oscillators in a synth, all samplers
more or less have a unique sound, and new sounds can be sculpted with that sound
by using it's ADSR and builtin effects (if any) or by processing it further with external
plugins and effects. It may not be the excellent waveforms that makes this free collection
so good but the extensive format support.
For VSTi/Standalone WinXP/ASIO needed.
Size: 580MB Content - 175 MB Download File - Price: FREE
WAVE / HALION / KONTAKT / NN19 / NNXT / REFILL / GIGA / MAIZE + STANDALONE +
VSTi FORMAT / DS404 / CMPLAY / SOUNDFONT / EXS24 / DIRECTWAVE / HALION HSB
& KONTAKT MONOLITH
PDF Manual - 580Kb
Oscillator Pak - Sampler Synth Elements v1.0 Free.rar Mirror1 Mirror2 Torrent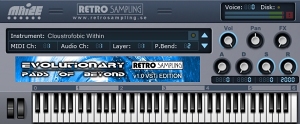 EVOLUTIONARY PADS OF BEYOND v1.0
These banks are made for film scores in the genres of thriller or dark science
fiction but could easily be used for ambient or cold chillout. It instantaneously
gives you associations of that something is going to happen, so play it wisely
and create sonic psychological tunes to push the listener in the right direction.
For VSTi/Standalone WinXP/ASIO needed.
Can be bought and downloaded directly at: PowerFX
Direct Link: Evolutionary Pads Of Beyond
Audible demos can be found on demo page.
Size: 1800MB Content - 699 MB Download File - Price: 59 USD
WAVE / HALION / KONTAKT / NNXT + REFILL / GIGA / MAIZE-STANDALONE + VSTi FORMAT
Evolutionary Pads Of Beyond VSTi v1.0 DEMO.rar Mirror1 Mirror2